Homes For Sale Land O Lakes Fl, Land O Lakes Fl Realtors, Houses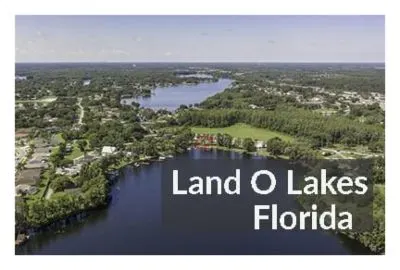 With its charming small-town atmosphere and convenient access to Orlando and Tampa, Land O Lakes is the perfect place to raise a family or retire. Whether you're looking for a starter home or a luxurious estate, Land O Lakes has something for everyone. Check out the subdivisions and communities in Land O Lakes. So why wait? Start exploring the homes available in Land O Lakes today!
We serve all of Land O Lakes Florida for your real estate needs. Whether buying or selling your home in Land O Lakes Tampa Bay Premier Realty Land O Lakes is here to help!
Land O Lakes Fl Real Estate
single family home, Multifamily home, condo, manufactured home, mobile home or a piece of land in Land O Lakes Tampa Bay Premier Realty is here! View Homes for sale in Land O Lakes Fl and seach for homes in Land O Lakes
Looking for the right neighborhood to identify what you want is essential while purchasing a home. So, if you are looking for a home in Florida, then we recommend looking at your options in Land O Lakes. There are countless unbelievable homes for sale in Land O Lakes, FL, that could fit your financial plans and choice of lifestyle.
How much is the average home in Land O Lakes Florida?
The average home price in Land O Lakes, Florida is $281,554. This is slightly higher than the current median list price which reaches about $258,000. The median sale price for all homes in this area stands at approximately $285k. View the Land O Lakes FL market report!
This region has always been popular with home buyers due to its excellent location and convenient access to nearby shopping centers, retail outlets, restaurants and other entertainment spots. Furthermore, Land O Lakes offers plenty of outdoor activities and recreational opportunities such as parks and trails making it a desirable destination for families of all sizes.
In addition to its great amenities and ideal location near major highways like State Road 54 (SR-54) connecting the Suncoast Parkway with Interstate 75 (I-75), Land O Lakes offers numerous employment opportunities at local businesses including healthcare providers like AdventHealth Wesley Chapel Hospital or commercial operations like Pasco County Government Employment Center that adds value to the market here too.
All these factors contribute positively towards maintaining competitive but attractive prices for properties in this part of Florida where prospective buyers can find plenty of high quality housing options ranging from new construction single family houses up to luxurious custom built villas with excellent panoramic views of the surrounding lakeside scenery.
Is Land O Lakes Florida a good place to live?
Land O Lakes Florida is an excellent place to live if you're in the market for a new home. Its close proximity to Tampa, Orlando and other major cities makes it a great spot for those looking for an urban lifestyle, while still having access to quiet neighborhoods with plenty of outdoor activities. Home buyers will find that Land O Lakes offers something for everyone—from single-family homes or condos in gated communities, to waterfront property and luxury estates on acreage.
The area features beautiful lakes like Lake Padgett and Lake Thomas which are perfect spots for swimming, fishing or boating. The lovely Hillsborough River State Park is just minutes away where visitors can enjoy camping, canoeing and hiking among other activities. There's also a variety of shopping centers offering everything from everyday items to fine dining establishments—all within walking distance from many of the new developments popping up around town.
Overall there are plenty of reasons why Land O Lakes might be the perfect place for potential homebuyers looking for their dream house. From its friendly atmosphere to its lush scenery and wide array of amenities this sunny community has so much more than meets the eye!
What is the average Florida home price per square foot?
The average price of a Land O Lakes, Florida home per square foot is approximately $175. This figure varies depending on the size and location of the property, as well as any upgrades or renovations that have been made to it.
For those looking to buy a home in this area, it's important to understand what you are getting into before making any major decisions. It is recommended to consult with local real estate professionals who can provide insight into current market conditions and trends in the area, along with an idea of what prices you should be expecting for homes in your particular neighborhood.
In addition to consulting with professionals and understanding market conditions, Homebuyers should also thoroughly research neighborhoods they may be interested in residing in - factors such as school districts, walkability/accessibility scores and crime rates are just some of the things one may want to consider when purchasing a new home. With all these considerations taken into account one will likely find themselves at or close to the average price per square foot rate mentioned above!
What is the average cost of a 2000 square foot home?
The average cost of a 2000 square foot home in Land O Lakes, Florida is dependent on a range of factors such as the size, condition and amenities offered. A more precise estimate can be obtained by consulting with local real estate agents who have access to up-to-date market information.
At present, the general average cost for homes in this area can range from $300k-$400k depending on whether it's an existing home or newly built one. For existing homes, factors such as location and lot size may affect the price despite having similar square footage. Additionally, condition and age of the house are two important details that play into its overall price tag. Similarly for newly constructed homes, customization options will add to their total cost regardless of their size or floorplan type.
For potential buyers interested in purchasing a 2000 square foot home within Land O Lakes Florida's city limits - there are many excellent options currently available at varying prices based on your budget and specific needs. It is beneficial that you consult with real estate agents to get an accurate assessment regarding local market rates along with other costs associated with purchasing property like taxes and insurance premiums which could potentially drive up expenses significantly over time if not initially factored into calculations when estimating the total costs of ownership.
How are the Land O Lakes Florida schools?
The schools in Land O Lakes, Florida are outstanding. Home Buyers can rest assured that their children will have access to the best education possible. The Pasco County School District consistently ranks among the top school districts in the state of Florida and is well known for its commitment to excellent educational services. In addition, all 4 elementary schools located within Land O Lakes boundaries received A or higher grades from their recent report cards.
These scores reflect high-level instruction and academic rigor at each level—from kindergarten through grade 12—with a emphasis on preparing students for college and career readiness upon graduation. The district also provides numerous programs to help further students' success, including advanced placement courses; vocational courses; tailored ESOL classes for non-English speakers; special needs programming; and much more.
On top of these exciting educational options available within the district, Land O Lakes provide several highly esteemed private schools where parents may enroll their children into pre-kindergarten programs up through high school studies as well as afterschool activities such sports teams, music ensembles, language clubs, art workshops etc.. making it an even better option when it comes to obtaining a first class education while living in this beautiful city!
[rg-dg-city-Land O Lakes, fl]