Tampa Realtors - Tampa FL Homes for Sale - Tampa Bay Premier Realty
Looking for a realtor in Tampa FL? Look no further than Tampa Bay Premier Realty! We are the premier real estate agency in Tampa, and we are here to help you find your perfect home. Whether you're looking for a new place to call home, or you're ready to sell your current home, Tampa Bay Premier Realty is here to help. Our experienced and knowledgeable realtors have the knowledge and expertise you need to navigate the Tampa real estate market with ease, and we will work tirelessly to make sure that your home buying or selling process is a smooth one. So what are you waiting for? Contact Us at Tampa Bay Premier Realty today and start your search for the perfect home in Tampa FL!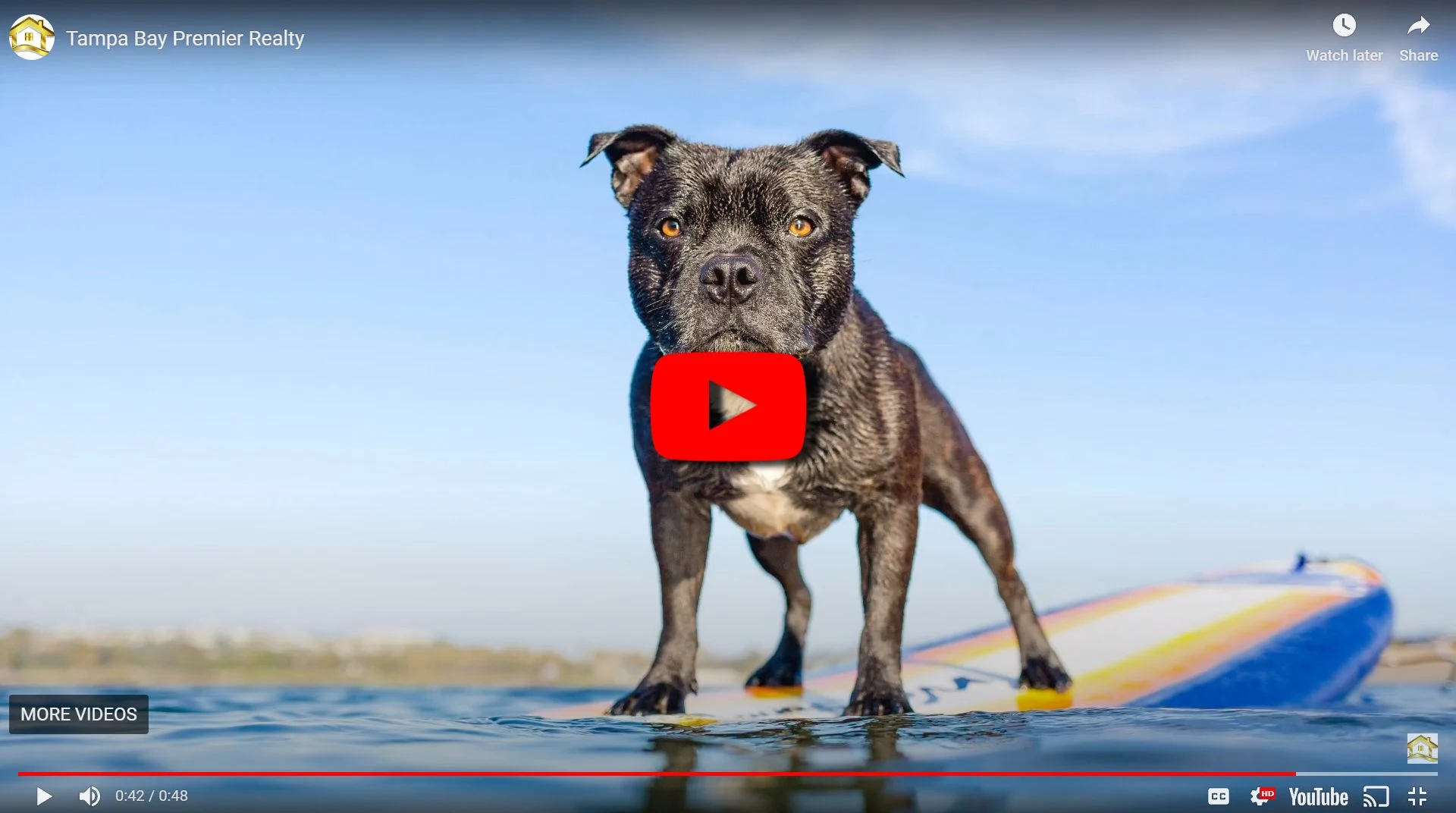 Looking for Tampa FL homes for sale? Search our comprehensive list of
Tampa Fl Homes and communities to find the perfect fit for you and your family. Browse through Tampa fl neighborhoods and discover the many different types of homes and lifestyles available. Whether you're looking for a cozy starter home or a luxurious estate, you're sure to find it in Tampa FL. So what are you waiting for? Start exploring today and discover your perfect Tampa FL community!

Tampa FL is home to a variety of unique communities. From the historic Tampa Heights to the bustling business district of Downtown Tampa, there is something for everyone in Tampa. Tampa's diverse communities like
South Tampa,
Davis Island,
Bel Mar,
Bayshore Beautiful offer residents a variety of amenities and activities to enjoy. Whether you are looking for a quiet place to call home or an exciting place to play, Tampa has a community for you.
One of Tampa's most popular communities is Tampa Heights, which is located in Tampa's historic district. This community features many charming Victorian homes and tree-lined streets, providing residents with a welcoming and relaxed atmosphere. Another great community in Tampa is Ybor City, a lively neighborhood known for its vibrant nightlife and delicious Cuban cuisine. If you are looking for an active lifestyle, Tampa also offers plenty of exciting outdoor activities. The Tampa Riverwalk provides miles of scenic waterfront pathways where residents can enjoy kayaking and biking along the water, while Curtis Hixon Park offers a beautiful green space right in the heart of downtown Tampa.
So whether you are looking to settle down in a quiet residential neighborhood or immerse yourself in Tampa's exciting urban lifestyle, Tampa has a community that is the perfect fit for you. With its diverse communities and plentiful amenities, Tampa is a great place to call home.
Search homes for sale in Tampa Florida
just like Zillow, Trulia, Redfin, Re/Max, Coldwell Banker, Century 21, ERA and Realtor.com...

If you are wanting an experienced realtor in Tampa, who has been licensed as a full time Tampa real estate agent and Realtor since 2005 and has sold hundreds of Tampa Fl Homes then you'll want to contact us now! I personally oversee every Tampa home, condo, villa or land sold through our team. From viewing home for sale in Tampa to writing contracts, inspections, title, to the closing table, Keith Houtz, Tampa Bay Premier Realty will be there every step of the way! We extend the professionalism, integrity and commitment you deserve!
Our Reviews Speak for Themselves, See What our Clients have said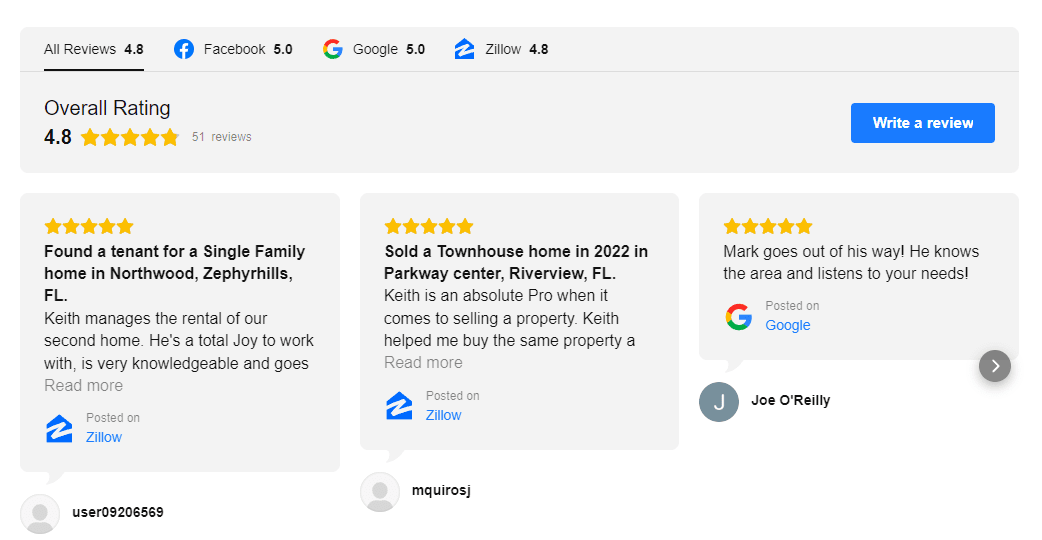 Frequently Asked Questions
Is Tampa a good place to live?
There are several reasons Tampa is consistently ranked in the nation's top cities to live in. We have year-round warm weather, amusement parks, low cost of living, great neighborhoods, world famous beaches, and championship sports teams. There is something for everyone here..
What is the weather in Tampa Florida?
Our annual weather averages 74 degrees F (23 degrees C), according to www.timeanddate.com. Our warmest months of the year are July and August with highs reaching the mid 90's (approx. 34 degrees C). Our coolest month is January, with lows around 50 degrees F (10 degrees C). Tampa WeatherThat's right, you guessed it! Living in the Tampa Bay area is like living in a tropical paradise. It's always a good time to enjoy outdoor activities. Whether that's our gulf coast beaches, our major league championship sports teams, local markets, or brunch with friends. Beware of our summer, afternoon showers. They start around 3pm and usually end by 4pm. Just make plans to take a break at that time and wait for the shower to pass. These showers make all of our lush, tropical landscape flourish with vivid colors, all summer long.
What is the cost of living in Tampa?
Salary.com has the cost of living in Tampa 5.6% lower than the national average. They use 5 major categories to score the cost of living for an area: housing, food, healthcare, transportation, and energy. This means, you should definitely consider setting down roots in Tampa and purchasing a home. Where else can you live in a tropical paradise with a lower-than-average cost of living? A statement released in January by Tampa Electric that their prediction was accurate. "Last year, Tampa Electric (TECO) predicted that the economic recovery would likely cause natural gas prices to rise with the increase in demand. As a result, starting in January 2023, the average Tampa Electric residential customer's energy bill increased 8 percent to $105.25 for 1,000 kilowatt-hours (kWh) of use, which is still less than customers paid in 2021 and still 20 percent below the national average." This is huge. Living in Florida means that your AC is constantly running almost every month of the year and keeping these costs as low as possible, is a must have.
Best places to live in Tampa for families?
Remember the days when you would drive down your street and wave to your neighbors, and they would actually wave back? Yes, that still happens around town. We have several tight knit communities that offer neighborly living. They also boast great schools, community events, and many amazing people. Topping off the list, according to Niche.com, is Harbour Island for its upbeat, safe and friendly neighborhoods. It's also an easy walk to community attractions like the Florida Aquarium, Sparkman's Wharf, a load of restaurants and bars. This neighborhood is mostly populated by young professionals and families. Historic Hyde Park is right down the road from Harbour Island and has some of the best schools in the district. It has a great night life scene and offers a great urban and suburban mix. Most residents in this area own their homes. Carver City rounds out the list with its close proximity to the Tampa International Airport, Raymond James Stadium and many local restaurants and coffee shops. This neighborhood is one of the safest in town and scored an A for diversity on Niche.com. The best things to do in Tampa
Are there things to do in Tampa?
Did you know, that living in Tampa means that there's always an amusement park no more than 30 minutes away. Busch Gardens and Adventure Island are great places to visit. They both offer year-round passes for Florida residents that are affordable. You can also save money by bringing your drinks and snacks for the little ones too. Usually around February, they start offering free preschool passes for all children 4 or under. Talk about a family friendly place to enjoy our amazing weather. Busch Gardens is jam packed with rollercoasters like, Cheetah Hunt, Tigris, and the new Iron Gwazi. If you have lived in Tampa for a long time, you will remember that Gwazi was the biggest wooden rollercoaster that has now evolved into a new iron legend. Per Busch Gardens themselves, the Iron Gwazi is North America's tallest hybrid roller coaster and the fastest and steepest hybrid coaster in the world! That's right, you read the correctly, In The World! If Busch Gardens gets too hot, head over to Adventure Island across the street. Adventure Island has towering water slides that is sure to get your blood pumping and adrenalin going, all while cooling you off. Or, if you're more like me, grab a drink and head over to the Rambling Bayou (aka lazy river). Adventure Island notes this as, a half mile trip that will take you through a colorful rain forest, waterfalls and even a little rain and fog.
Where are best beaches in Tampa Bay?
Florida's gulf coast beaches are some of the most beautiful in the world. Our coastline features white sugar sand and crystal clear waters. Take a 20-40 minute drive and head over to Clearwater Beach, Florida and enjoy the family friendly Pier 60. During the summer, Pier 60 turns into an evening movie beach party. Bring your blankets, chairs, and coolers and enjoy a movie under the stars. You can also find local artisans, live entertainment, and some of the best grouper in the Tampa Bay area. If trendy Clearwater Beach is not your vibe, head a little further south to Treasure Island. Treasure Island is more laid back with tons of local restaurants and bars. This St Pete Beach is great for families looking for a quieter, less populated beach to enjoy. Whichever Tampa Bay area beach you decided to visit, make sure you keep your eyes peeled for whimsical seashells and shark's teeth.
Should I hire a real estate agent to sell my home?
Finding the right realtor does not have to be a long detailed process. In today's world it seems that everyone has a license in real estate license including your uncle, his sister, the butcher, the baker and even the candlestick maker. So how do you know who is the right choice for you? Many times I have heard horror stories about buyers or sellers using friends or family when buying or selling real estate. Imagine your sister has your listing and screws up the paperwork or doesn't negotiate a better price for you or worse yet makes the deal fall apart? How do you handle that family crisis now? How do you fire your best friend as your listing agent because she is not doing any marketing or having any open houses?
These are situations that you need to think about before you get into a bad situation. If you have a friend, neighbor or relative in the real estate business and that are seasoned veterans in the industry then I say to you go for it! But if your uncle is a truck driver 9-5 or your best friend is a teacher 9-5 and both moon light as agents I say stay clear. Thank them for the offer, but find an experienced agent in your market. A good agent will sell from 8-12 homes a year, while a great agent could sell 15-20. Once you get beyond those numbers, you will probably be looking at an agent who has become part of a team to cover the volume.
You don't always get the head of the team, but may be assigned to an agent who sells the 8-12 homes per year or perhaps less.
The other red flag I have is what I like to call the power brokers. These are brokerages that have all the sales go under one name, yet that one name had little or nothing to do with selling or buying your home. That power broker hires agents to work under him/her, do all the work, yet he/she gets all the glory! In ALL these situations you are only as good as the agent you get! I suggest you keep in the good to great category of agents. These are where I feel you will get the most client care and interaction to satisfy your needs. Look up one of these power brokers or large teams, call the number and find out who actually answers the phone. If you list with an agent, wouldn't you want the agent to answer, not a receptionist who will forward you on to someone else? If you are looking at the Tampa Market and would like to speak to me directly please call me at 813-602-1975, I promise I will be the one to answer!
How do I prepare my home for sale?
home staging
home improvement
declutter
create curb appeal

Tampa Neighborhoods
Altura Bayshore
Bel Mar
Culbreath Isle
Bayshore Beautiful
Davis Island
Beach Park
Golf View
One Ashley Place, Pendry Residences
Harbor Island
Sunset Park

Apollo Beach
Andalucia
Apollo Beach Key Village Homes
Apollo Beach Unit One
Bal Harbour
Bimini Bay
Brisa Del Mar
Island Walk

Clearwater Beach
440 West Condo

Land O Lakes
Subdvisions
Single Family Homes
Golf Course Homes
Waterfront Homes
Gated Communities
Pool Homes
Arden Preserve
Bahia Acres
Bexley
Concord Station
Connerton
Grand Oaks
Lakeshore Ranch
Suncoast Lakes
Wilderness Lake Preserve